Privacy, Publishing, and Sharing – FlowVella Tip of the Week
This week's FlowVella tip is based on questions we get asked about quite often: what are the FlowVella privacy settings, how to share, and what publishing a Flow does. Read on to get the scoop!
Privacy
Wait, so is my Flow private or public?
Your Flow is only viewable from your unique URL. Share this URL with your friends, family, or co-workers. More privacy features and controls are coming in the next version of FlowVella for iPad!
Publishing
What does Publishing my Flow mean?
Publishing saves all of your content to the web, and provides you with a unique URL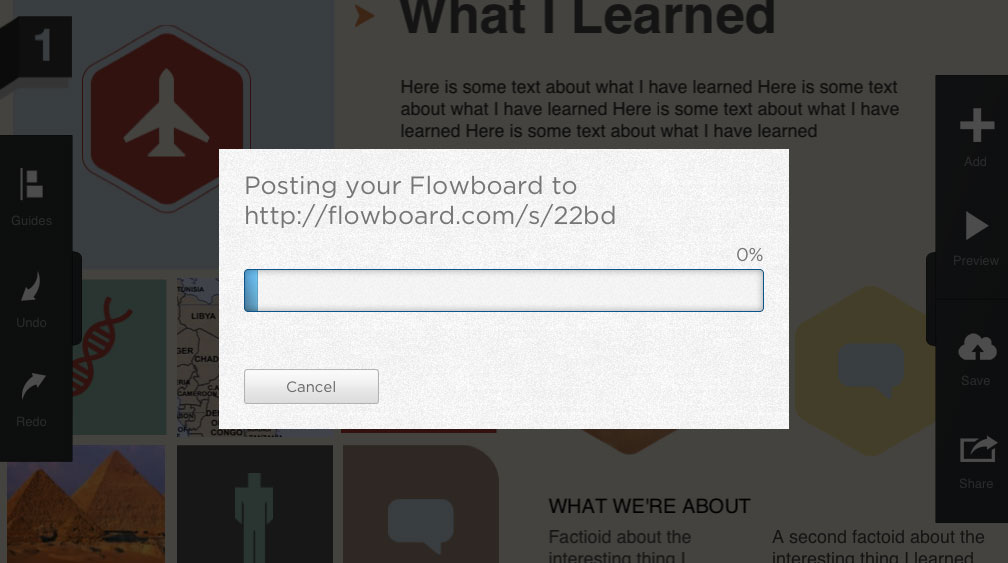 If you've published your Flow before you're ready, or would prefer to "remove" it from the web, you can unpublish it on the Edit Your Flow screen by tapping the settings icon in the toolbar.
Sharing
Ok! I'm ready to share my Flow with the world. How do I do that?
Tap the share button on any screen in the Creator, from the Edit Your Flow screen, or from the tile on My Flows. You can share via Facebook, Twitter, and email from the app, or copy the URL and use it anywhere. Just remember that you can only share published Flows, so if you haven't done that yet, the FlowVella app will upload your content first (which may take a few minutes depending on your connection).