The Yukon wolf (Canis lupus pambasileus), also known as the autocrat timber wolf or interior Alaskan wolf is a possible subspecies of gray wolf native to the Alaska Interior, save for the tundra region of the Arctic Coast.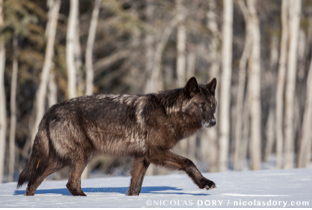 Wolves range across the Northern Hemisphere, from the deserts of the Middle East to well above the Arctic Circle, from the vineyards of Italy to the treeless arctic tundra. Yukon wolves are among the few that still live in a natural ecosys- tem, that includes other large predators and prey species.
Roughly 30-50 kilograms, with females averaging about seven kilograms less than males. A few males reach 65 kilograms.
Up to two metres from nose to tail-tip (the height of a tall man). About a quarter of that length is the wolf's tail.
Mainly large prey, such as caribou, moose, deer, elk, bison, and muskoxen. Also hares, foxes, beaver, muskrat, and smaller

rodents, as well as birds, fish, and eggs.